ADTO Aluminum Formwork: The Best Choice For You!
What is Aluminum Formwork?
Aluminum formwork is a kind of modern formwork manufactured from aluminum alloy. Aluminum formwork is lightweight which reduces labor handling costs and offsets its higher initial material cost. It is widely used in the construction industry.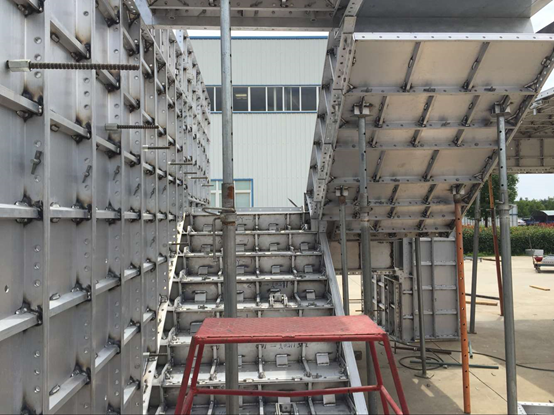 Why We Use Aluminum Alloy to Manufacture
Aluminum Formwork?
As we all know, the major problem of aluminum formwork is corrosion. Pure aluminum is easily chemical rusted by wet concrete. Aluminum alloys have proven to be very successful in resisting corrosion. So the commonly called aluminum formwork is made from aluminum alloy. Support trusses fabricated with aluminum alloys have been effectively used for flying forms. These forms are lightweight and allow large lengths of deck forms to be moved easily. Cast aluminum alloy molds have also been used successfully to form ornamental concrete products.
Aluminum wall formwork has also been used to produce textures on the surfaces of concrete walls. Formwork made of aluminum is in many respects similar to those made of steel. However, because of their lower density, aluminum forms are lighter than formwork requirements, Types, Materials & Accessories steel forms, and this is their primary advantage when compared with steel.
Because the strength of aluminum in handling, tension, and compression is less than the strength of steel, it is necessary to use larger sections when forms are made of aluminum. Because wet concrete can chemically attack aluminum, it is desirable to use aluminum alloys in resisting corrosion from the concrete.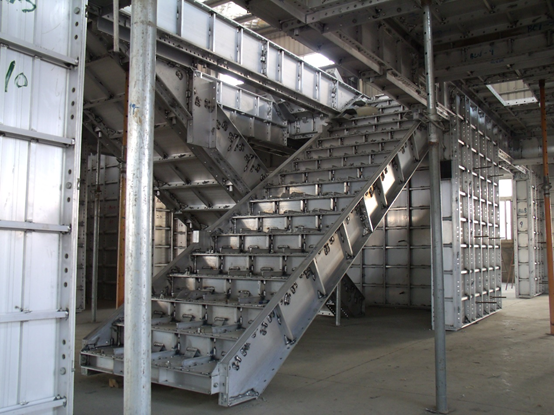 Why We Choose Aluminum Formwork?
Compared with the ordinary formwork, the Aluminum Formwork has the below outstanding merits.
1. Integral concreting
Assembling all the Formwork boards into a whole system in one time before the pouring of concrete.
2. Enhance the working efficiency with a design of the early dismantled supporting system.
The early dismantled technology can realize a pouring speed of building one floor within four days.
3. Environmental friendly with recyclable use.
Aluminum Formwork is manufactured from high strength aluminum alloy which is reusable.
4. Long service life. Low capitation fee.
Generally speaking, Aluminum Formwork can be used for more than 300 times. The cost for each time using is lower than that using traditional formwork.
5. Lightweight and flexible.
All components of Aluminum Formwork are made of high strength aluminum alloy. As the aluminum alloy has the nature of lightweight and flexibility, the aluminum formwork is also lightweight and flexible.
6. Safety in construction.
Aluminum Formwork is fabricated according to the design standard of 50 KN per square meters. Eliminate the hazard of causing by the instability of the traditional formwork system.
7. Versatile Using Purpose
All kinds of structures can be assembled by Aluminum Formwork. After assembled, it can be an entire structure frame with stable performance and good bearing capacity.
8. Shorten Construction Period
In general, 5 days for finishing a typical floor by one set of Aluminum Formwork System.
9. Higher Efficiency
Prop head panel and support system are designed integration, pre-dismantle technique suit to deck panel support system, it greatly improved using the rate of Aluminum Formwork.
10. High Recycled Value
Due to the formwork panels are made by aluminum alloy material, the waste formwork and steel accessories still have a pretty good residual value to be recycled. For example, the recycled price arrived $35/㎡. (Recycle price should be referred to the local situation.
11. Fewer Accessories, Larger Working Space
Less Acrow Support Props for Aluminum Formwork System, making operation space on the work site larger, making workers and material's movement flexible, highly improving the efficiency of the work site. When the plywood arrived at the work site, they would be placed on the ground and ready to be used by workers. About 8 times of reused later, the plywood was dismantled and couldn't be used anymore. The finished plywood panels should be placed somewhere and the passengers should stay far away from them.
Once the Aluminum Formwork System arrived at storage on the work site, they would be used until to finish a whole tower of the building and then were sent to the next building. After the Aluminum Formwork System finished all of the buildings, they are easy to be packed and saved. There are 70% of formwork panels could be fixed to the next project.
12. Excellent Concrete Surface Finish Quality
After the dismantling Aluminum Formwork System, the quality of the concrete surface is flat and smooth, clean to finishing and decoration fair-faced requirements. The remolding agent should be used together for protection Aluminum Formwork panels. Because there are some chemical things will happen when concrete stick with aluminum alloy material, so it should be coated water-base remolding agents on before setting up Aluminum Formwork. Concrete surface quality is flat and smooth, could achieve clean to finishing and decoration fair-faced requirements. Saving charge of plastering.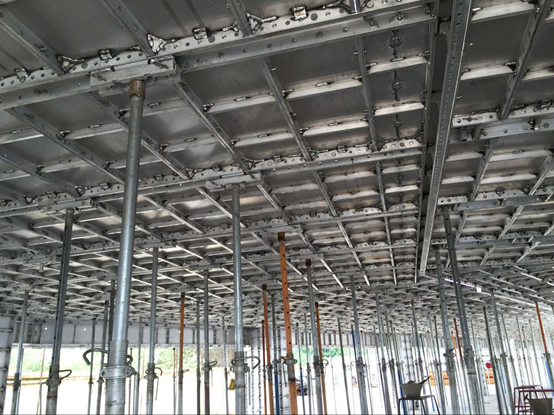 Why Choose ADTO GROUP?
#1 Production
We are ADTO GROUP. We are the leading professional aluminum formwork manufacturer in China. We have a technical manufacturing plant. We can provide high quality and stable Aluminum Formwork.
#2 On-Time Delivery
We can meet the customers' delivery time requirements with multiple production lines.
#3 Self-designed Pressing dies
One-piece in the design and fabrication of pressing dies and pressed aluminum materials minimize loss or malfunction in the use of construction. Our know-how in technology guarantees competitive quality and life-span among other providers.
#4 Reputation in Engineering and Design Program
ADTO Aluminum Formwork, with the practical design and best quality, has got a good reputation when applying in many construction programs. Its competitive price and high quality are known to customers all over the world.
#5 Various Type of Items Production
There are many other kinds of forms aluminum formwork can be transformed. In other words, ADTO Aluminum Formwork is versatile.
#6 Supervision of On-site Supervisor
Before the shipment arrives at the site, a single or a group of skilled supervisors goes to the construction site to prepare mock-up the Aluminum Formwork System and manage unexpected events that might occur.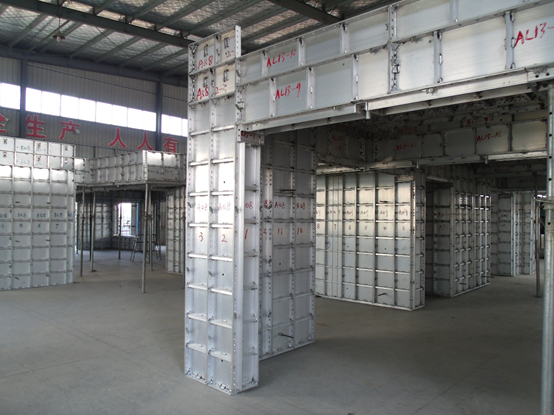 ADTO GROUP, a building materials supplier integrating R&D, production, sales, and logistics. We supply products that involve scaffolding, formwork, and all kinds of steel products.
Related News