The 1st ADTO Building Material International Fair
The new economic model of "foreign trade plus factory plus internet plus big-data" will sweep the world starting from Changsha since this December. "Grouping & Sharing" model will help you to acquire customer resources easily, sell to the world easily, open a new channel for global foreign trade effectively.
The 1st ADTO Building Material International Fair will be held in Changsha from Dec. 7 to 11, 2019.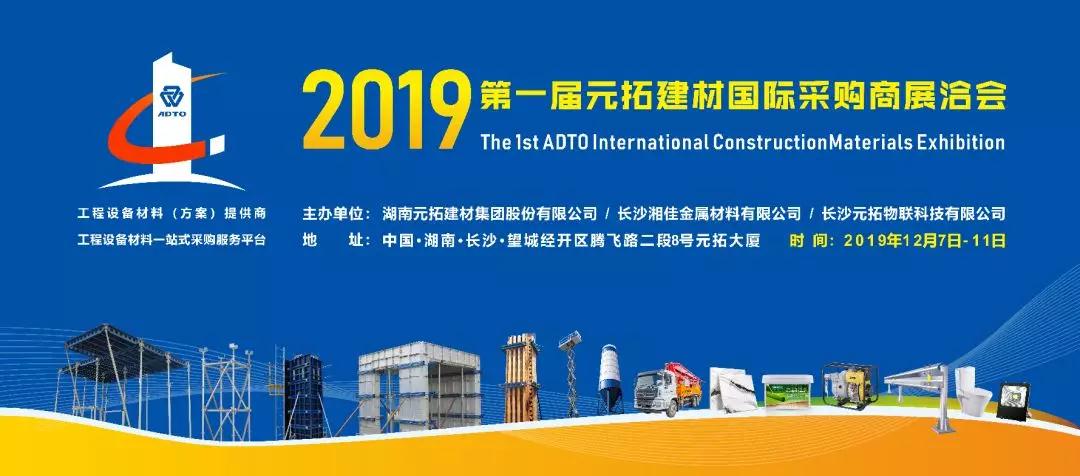 Highlights of The 1st ADTO Building Material International Fair
01 Gathering foreign businessmen, making strength-focused.
Hundreds of large foreign or domestic engineering equipment material procurement enterprise, more than 30% of the buyers are international top 100 enterprises. One fair attending, hundreds of order chances.
02 Accurate customer resources, high industrial recognition
ADTO GROUP, the organizer of the ADTO International Fair, has worked in the field of the engineering equipment and material industry for 14 years. As an experienced trader in the global market of engineering material industry, ADTO GROUP owns 2600+ partners of overseas engineering and construction enterprises, 2800+ construction material sellers, 6000+ potential customers information. Exhibitors will not only acquire accurate customer information but also share other excellent customer resources with ADTO GROUP.
03 Abundant experience in on-site negotiation and transaction
ADTO GROUP has participated in 40+ domestic and foreign exhibitions over the years, accumulating rich experience in on-site negotiation and transaction.
04 More value-added services to help you expand the international market
Customer channel development
We have set up 20 overseas subsidiaries globally and plan to set up 50 overseas subsidiaries by the end of 2020. Thousands of overseas professional sales elite, first-class international and domestic online promotion team, customer development channels continue to share, bring massive customer inquiries every month.
ADTO business school system training, rapid replication of the elite team, only three months to build an excellent sales team.
Foreign trade order financing support
Dozens of ADTO foreign trade strategic cooperation banks and manufacturer share.
ADTO provides risk audit and control for all orders, and purchase order insurance for all orders (Sinosure).
Related News